The Wolf's Footprint
Adapted from the book by Susan Price
Music by Kate Stilitz
Words by Kate Stilitz & Neil Paris
Following a disastrous harvest and facing another perilous winter, hope is running out in the village of Darcy. In a courageous bid to escape a dreadful fate, Elka leads her young brother far away into the depths of the king's forest, where they encounter an extraordinary wolf pack who guide them on a magical journey into the unknown.
This musical adaption of award-winning author Susan Price's children's novel is a tale of tragedy, magic, redemption and celebration. A coming-of-age story in which two children begin to discover who they really are and what it really means to find home.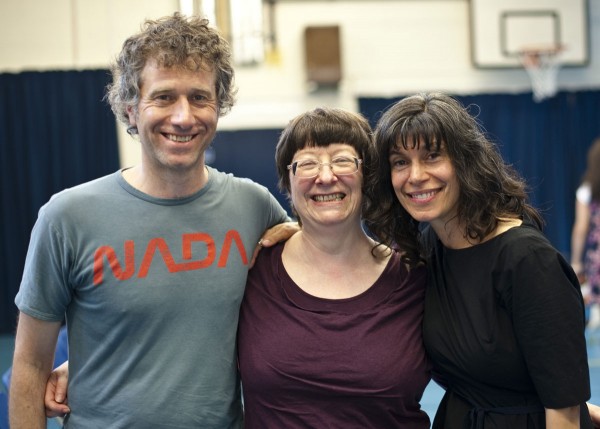 Neil, Susan and Kate at the Tiveron Primary School performance of The Wolf's Footprint in July 2014.
Susan Price:
"Called on to say a few words after the performance I said that, although a bit late – my birthday had been the week before – it was the best birthday present I'd ever had."
"I mentioned that I'd written a book called The Ghost Drum, which had been awarded the Carnegie Medal for best book of its year – and that this was better. And I mean it…"
Photography by Tracy Woodford