One Small Bird
Ballad of the Red-Necked Phalarope
By Kate Stilitz & Jilly Jarman
This song cycle was inspired by the RSPB's 2014 discovery of the migratory route of one of Britain's rarest birds, the red-necked phalarope.
Facing huge obstacles, this tiny creature which weighs no more than a packet of crisps successfully crosses the Atlantic between Shetland and Peru every year. It passes through environments as diverse and challenging as the icy regions of the north and the storms of the Caribbean.
This little bird's journey tells an inspiring story about strength and resilience in the face of harsh conditions, and of the unstoppable drive for survival among earth's creatures.
One Small Bird has been performed by young people and community groups across Britain.
Alongside the song cycle, the One Small Bird project offers an opportunity for participants to engage in the incredible story of the red-necked phalarope through visual art, movement and poetry.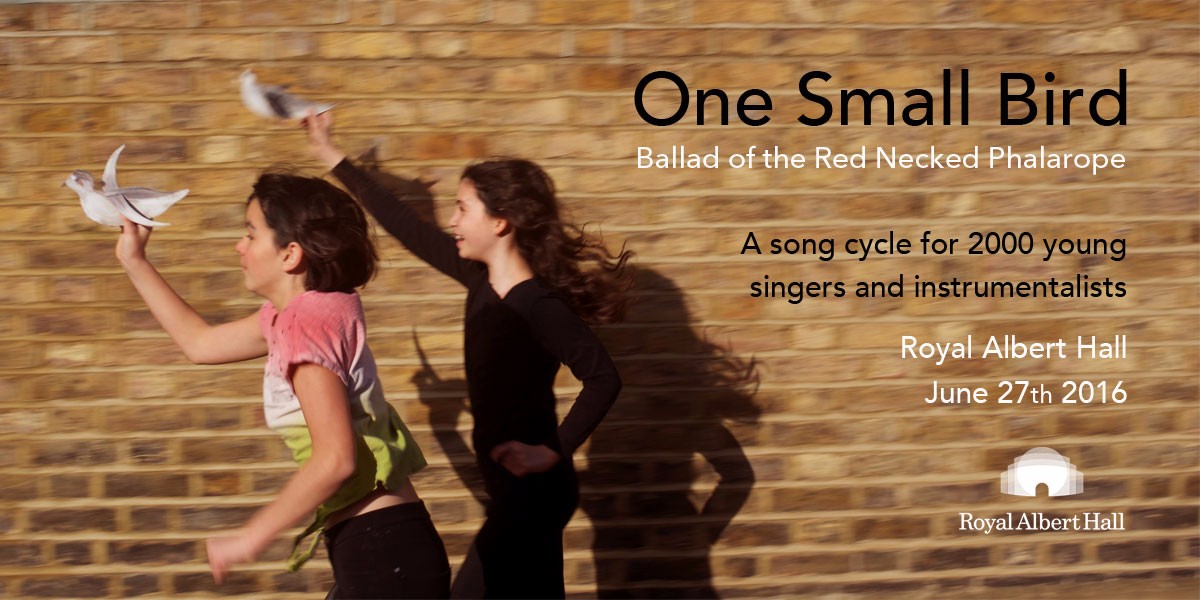 "The children's understanding of the natural world has been greatly enhanced by this beautiful project which has allowed them to connect with nature in an immersive manner."
"These songs have caught the children's imaginations and given them new knowledge and appreciation of the amazing events happening in nature. It seems that music can be a powerful catalyst for learning about all sorts of things out of our usual orbit."
OSB Performances
PREMIERE AT ROYAL ALBERT HALL JUNE 2016. HARINGEY SCHOOLS' FESTIVAL
The piece, commissioned specially for this event by Haringey Music Service, involved the borough's youth symphony orchestra, big band, steel pan, guitar ensembles and youth choir Haringey Vox as well as junior instrumentalists and choirs from 48 Haringey schools. A group of young musicians from Lima, Peru also performed at the event.
CUMBRIA MUSIC HUB, SANDS CENTRE, CARLISLE SUMMER 2017
A performance involving 400 North Cumbrian primary school children accompanied by Cumbria Youth Orchestra and BlueJam Youth Jazz ensemble.
SOUTH LAKELAND, SUMMER 2019
South Lakeland primary schools and the Westmorland Youth Orchestra performed the song cycle in Kendal in July 2019.
SHETLAND NATURE FESTIVAL 2019
This week-long project involving young people, their parents and local musicians was a collaboration with the RSPB for Shetland Nature Festival. The project culminated in a performance at the Mareel Arts Centre in Lerwick.